Steinunn´s Brími
Welpe 1 – male
Redcolour…
Big white markings in the neck, split face,
forlegs white, hind paws white, white belly, white chest
white tail tip, hind paws with double dew claws

Ohne Worte… Steinunn´s Brími, Superstar!
Es gibt im Moment keinen lebenden Islandhund,
der so oft nach dem BOB dann im Ehrenring mit allen Nordischen Rassen,
wie Huskys, Malamuten, Samojeden, Grönlandhunden, Lapphunden, Finnspitze u.v.m der FCI Gruppe 5 unter die besten 5 der Nordischen Rassen platziert wurde… einfach charismatisch!
Und dass mit erst 3 Jahren…
…. und den Platzhirsch vertrieben… 
3. März 2018 IHA Graz 2018 – Ring of Honour – Steinunn´s Brími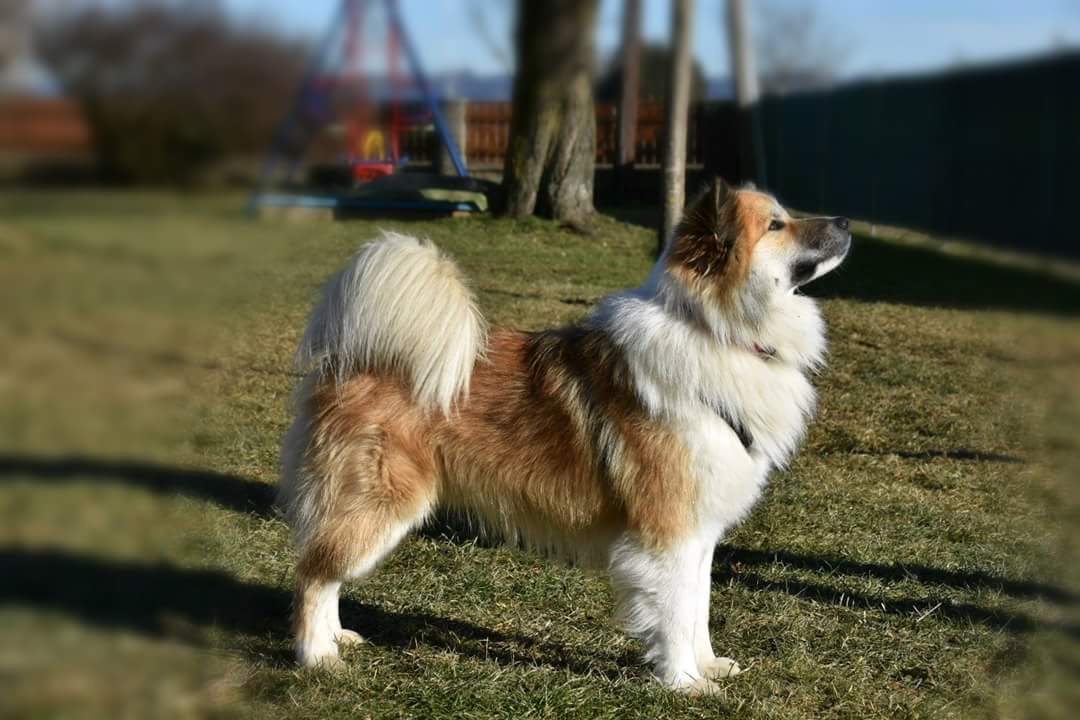 Steinunn´s Brími …Liebe Grüße von Sonja Weber
Dezember 2017
Facebook- Kommentar….
Steinunn's Kennel meets Keisaraskogar Kennel, a perfect synergy!  
I'm so proud of you both, Sonja Weber and Steinunn's Brími !!
World Club Show Leipzig 2017
Intermediate Class Excellent Place 1
Reserve CAC ! 
That means best male directly after the show-winner at his young age….
and VDH- CAC!
Judge: Jussi Liimatainen
31. Oktober 2017 The big one..  Steinunn's Brími 

Austria , owner Sonja Weber/Kennel Keisaraskog
3. Juli 2017 

Steinunn´s Brími – Österreichischer Jugend- Champion !
 

10. Juni 2017 – Doppel CACIB Klagenfurt mit Crufts- Qualifikation
Wow, noch in der Jugendklasse und schon BOB gemacht! 
Und 5.-  platziert in der Gesamt- FCI Gruppe 5 !
Islandhund Steinunn's Brimi
Excellent 1
Jugendbester
Bester Rüde
BOB
CRUFTS QUALIFIZIERT FÜR 2018!!
So joyful 
☺ you both, Sonja Weber and Steinunn´s Brími 
"What a day, after winning BOB with my junior boy Steinunn's Brimi at CACIB Klagenfurt we were not only shortlisted in Group V but ended up being fifth in the group 
 I'm sooo proud of my lovely boy and still over the moon 
 thank you Kirsten Hofmann for this lovely boy
"
4. März 2017
Wow!
Steinunn´s Brimi – IHA Graz 2017 – Jugendbester und BOB!!
Gerade mal 12 Monate alt.
 

16. Dezember 2016
Neue Fotos aus Österreich/ Kennel Keisaraskógur von Steinunn´s Brími.
Jetzt 10 Monate alt. Ein richtiger Prachtbursche ist er geworden!

 Und ein ganz lieber Kerl obendrein 
1. Mai 2016  – Steinunn´s Brími goes "Austria"!
So eine lange Reise.
Flight was going from Münster/Osnabrück via Munich to Graz.
Er hat es mit Bravour absolviert !
He was my heartbreaker of the whole B-litter as his name shows.
Sitting every time beside me, nearly ousted Kári…
Hoping he will complete the wonderful pack of the Kennel Keisaraskógur,
breeder  Sonja Weber and being a "best friend" and beloved companion.
Er war mein Herzensbrecher aus dem B-Wurf, an seinem Namen zu erkennen.
Suchte meine Nähe und verdrängte Kári…fast..
Nun komplettiert er das Rudel des Kennels Keisaraskógur,
Züchterin Sonja Weber
und ich wünsche ihm ein "Bester Freund" und geliebter Begleiter zu werden.
2.  April 2016   Little wolf sleeping in the sun  ♥

28. März 2016   Smart boys..
Kári (Afar Hvitur) is so gentle with the little ones.. 🙂
7. März 2016   Steinunn´s B- litter 17 days now!
3. März 2016 – 13 days now!
They start opening the eyes!
So , taking pictures without flash… 
Top-down:
Welpe 4 (female), Welpe 1 (male), Welpe 3 (female), Welpe 2 (female)
22. Februar 2016 – 3 days old